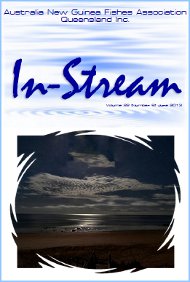 In-Stream for June is now available. In this issue David Roberts takes us out on the club field trip to the Sunshine Coast where members fished Martins Creek and the South Maroochy River. Judging by the photos it was a great location and it sounds like everyone enjoyed the day out. Adrian Tappin talks about fish choices for frog ponds, moving bed biofiltration, and takes us on tour to the Prince Regent River in Western Australia. There's a look at Lilaeopsis (swampstalks or hairgrass), Unspecked Hardyheads, and a brand new Pygmy Perch (Nannoperca pygmaea)  described in W.A.
Don't forget, if you've got an interesting story to tell or even a photo to share we'd love to hear from you.
Contact us to add your contribution to In-Stream.