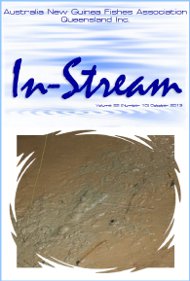 In this issue of In-Stream we travel with Adrian Tappin west of the Great Dividing Range on Cape York Peninsula in Far North Queensland to visit the Ducie River as it makes its way into the  Gulf of Carpentaria.
We also get up close and personal with some the most beautiful, interesting and/or unusual inhabitants of  Australian freshwaters (and sometimes aquaria). This time the focus is on Blind Cave Gudgeons, Giant Jungle Prawns (Macrobrachium lar), Blue Stream Gobies (Sicyopterus lagocephalus), and Mudmat (Glossostigma).
Make sure you find the cryptic creature featured in the cover photograph of this issue too – just another example of what makes Australia waterways so special 😉 .
As always, if you have an interesting story or photo to share we'd love to hear about it – so please contact us if you'd like to contribute to In-Stream.