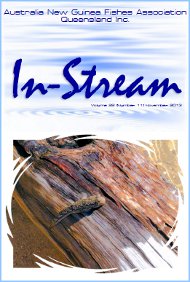 If you missed the ANGFA convention in Melbourne don't dispair, our assistant editor Leo O'Reilly gives us the run down in this issue of In-Stream.
Our editor Adrian Tappin introduces the mysterious and beautiful "Red Neon" Blue-eye thought to have originated in West Papua and yet to be formally named.
We take a close up look at Cherax quaricarinatus, the Reclaw Crayfish, and Adrian shows off a fabulous exposé of watergardens as a celebration of Spring.
As always, if you have an interesting story or photo to share we'd love to hear about it – so please contact us if you'd like to contribute to In-Stream.