Take a peek back at In-Stream from a decade ago, when ANGFA Queensland was getting ready for a Brisbane Convention anticipating a presentation from Dr. Gerry Allen about his exploits in eastern New Guinea.
Adrian Dawson reported about a combined clubs trip between ANGFA NSW and ANGFA Qld that included a weekend of fishing northern New South Wales – Woolgoolga Creek, Corindi Creek, the Orara River, and Never Never Creek.
Our editor, Adrian Tappin, with his ever present wanderlust of prose, took readers on tour to the Keep River in the Northern Territory, before explaining how to measure pH and why it matters for our aquarium fish and plants.
Through the work of Helen Larson we got introduced to some beautiful gobies from the Mugilogobius genus. With photos from Neil Armstrong and (of course) Gunther Schmida providing exquisite illustration of these charming little fish.
Our Vice-President and plant enthusiast  Heidy Rubin was the librarian back then and gave her regular write up from the Brisbane Plant Study Group "Tales from the Crypts".
And the club took a look back at where it began, 20 years prior in 1983 entitled 20 Years Ago…
20 Years Ago…

Its twenty years since ANGFA (Qld) officially began. The first 'official' meeting was held at the home of Adrian Tappin in early 1983. Meetings were organised for the last Friday of each month to be held at different members' homes on a rotating schedule. However, at a later meeting it was decided that if this young organisation was to grow it would have to have a permanent meeting place, so the group moved into its first public location at the Sherwood State School, with meetings held bi-monthly.

In June 1985 the first official newsletter was produced and was welcomed by the general membership. The publication of a regular newsletter in the intervening months with bi-monthly meetings has been a major factor contributing to the success story of ANGFA (Qld). Below is a photo of a promotional display in 1983 with the Editor at the helm.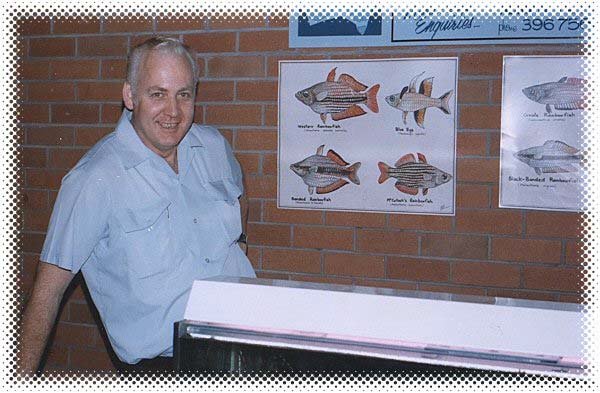 Here's to another 30 great years!